PACER'S DETAILS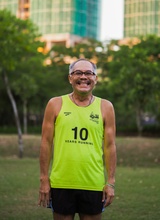 Name:

Kelvin Ng

Gender:

Male

Place of Birth:

Perak, Malaysia

Personal best:

4:17 Ambank Marathon KL 2004

First marathon:

5:02 Ambank Marathon KL 2000

Favourite athlete:

Usain Bolt

Favourite pastime:

Swimming

Favourite colour:

Yellow

Pacer time:

05:30
WHY DO I WANT TO VOLUNTEER AS A STANDARD CHARTERED KL MARATHON PACER
I like to work together to achieve a shared time goal. To lead with my experienced in running marathons and half marathons helping fellow runners realize their goals.
A PHRASE THAT INSPIRES ME
"When you want something you've never had, you have to do something you've never done."
MY MOTIVATION
I was not what first comes to mind I've been asking myself why I have continued running for the past seventeen years, even when it was really hard, The reasons why running is so important to me running has taught, It has taught me to never quit. As pacers, I think about the confidence running has give me. I'm able to motivate runners and see them get to the finish line in a time they didn't believe was possible.