PACER'S DETAILS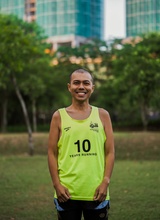 Name:

Abu Soffian Azzahari

Gender:

Male

Place of Birth:

Perak, Malaysia

Personal best:

3:51, Sultan Mahmud Bridge International Marathon 2017

First marathon:

4:59, Putrajaya Marathon 2006

Favourite athlete:

Muhaizar Mohamad

Favourite pastime:

Ironman Langkawi 2009

Favourite colour:

Blue

Pacer time:

05:00
WHY DO I WANT TO VOLUNTEER AS A STANDARD CHARTERED KL MARATHON PACER
To share my experience and give more strength to achieve marathon runners personal best.
A PHRASE THAT INSPIRES ME
"Stay fit and you can beat it."
MY MOTIVATION
FROM FAT TO FIT. From 105kg to below 70kg. From hate to love running. From '0' sport to 10km, half marathon, full marathon, triathlon, Ironman and 100km Ultramarathon. From sub 5 full marathon to sub 4 full marathon last year. Always believe in yourself and the sky is the limit. Follow me and we run together.