PACER'S DETAILS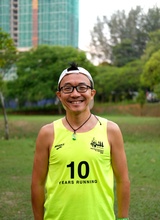 Name:

Teoh BJ

Gender:

Male

Place of Birth:

Teluk Intan, Perak

Personal best:

3:45:34, TOKYO MARATHON 2017

First marathon:

5:50:32, SEPANG ENERGIZER NIGHT RACE 2012

Favourite athlete:

Yoshimi Ozaki

Favourite pastime:

Trail Run

Favourite colour:

Purple

Pacer time:

04:30
WHY DO I WANT TO VOLUNTEER AS A STANDARD CHARTERED KL MARATHON PACER
"Pacing is everything when it comes to marathon running." Pacer often provides much-needed moral support to boosting follower energy. When run in a group, you can really take that energy from the group.
A PHRASE THAT INSPIRES ME
"Remember "STRENGTH IN NUMBERS", execute your race strategy with a extraordinary finishing timing!!"
MY MOTIVATION
GO HOME OR GO GLORY!!!