PACER'S DETAILS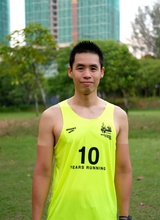 Name:

Malcalm Chew

Gender:

Male

Place of Birth:

Kuala Lumpur, Malaysia

Personal best:

3:57:22, Chiang Mai Marathon 2016

First marathon:

6:00, Putrajaya Night Marathon 2010

Favourite athlete:

Chrissie Wellington

Favourite pastime:

Running, Movie, Swimming, Cycling

Favourite colour:

Black

Pacer time:

04:30
WHY DO I WANT TO VOLUNTEER AS A STANDARD CHARTERED KL MARATHON PACER
Fun to pace and feel good after finish with fellow runners.
A PHRASE THAT INSPIRES ME
"No pain no gain."
MY MOTIVATION
Running changed my life since I started it on 2009. I started marathon on 2010. At the same year, I started my pacer journey with SCKLM. Completed a marathon give me self satisfaction, but helping runners to achieve their goal let me gain more that just self satisfaction. See you in Standard Charted KL Marathon 2018, lets cross finishing line together.