PACER'S DETAILS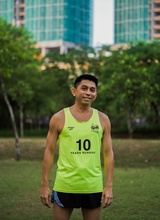 Name:

Alwin Tan

Gender:

Male

Place of Birth:

Penang, Malaysia

Personal best:

4:51, Standard Chartered KL Marathon 2014

First marathon:

6:00, Malaysia Airlines International Marathon (Penang) 1994

Favourite athlete:

Kevin Lin

Favourite pastime:

Running, Swimming, Reading, Singing

Favourite colour:

Blue, Red

Pacer time:

07:15
WHY DO I WANT TO VOLUNTEER AS A STANDARD CHARTERED KL MARATHON PACER
I want to help others to achieve their goals, at the same time, I wish to contribute to the running community & support my favorite event ~ SCKLM.
A PHRASE THAT INSPIRES ME
"Don't compare with others, but seek to break through your own self. "
MY MOTIVATION
During my secondary education, long-distance running would never be my cup of tea. Until the year 1991, I participated my very first 10km run. Since then, I have interest in long-distance running. Why is that so? I guess it is all about "feeling". I have completed 22 marathons thus far, in which I became an official pacer for 10 times from year 2011 until 2017. My passion in running has never ever changed. Do join me if you want to finish the Standard Chartered KL Marathon 2018 in 7 hours 15 minutes!