PACER'S DETAILS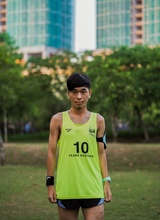 Name:

Loh Seow Chan

Gender:

Male

Place of Birth:

Kuala Lumpur, Malaysia

Personal best:

3:17, 3R International Marathon 2015

First marathon:

3:37, KL Standard Chartered Full Marathon 2014

Favourite athlete:

Andy Murray, Dato Lee Chong Wei

Favourite pastime:

Running, Playing Badminton

Favourite colour:

Blue

Pacer time:

03:45
WHY DO I WANT TO VOLUNTEER AS A STANDARD CHARTERED KL MARATHON PACER
I like to share the experience and help others to accomplish their dream.
A PHRASE THAT INSPIRES ME
"Never give up until the end. You would never know where is your limit."
MY MOTIVATION
Running is just a sport for me. However, it is a sport that challenging our limit. Once you pick up running, you will understand how's attractive of this sport. You would never know where you are and who you are if you don't have dare to try it.