PACER'S DETAILS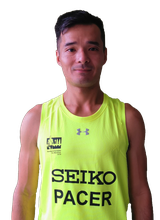 Name:

Alan Toh Jin Joo

Gender:

Male

Place of Birth:

Penang, Malaysia

Personal best:

3:05, Standard Chartered KL Marathon 2018

First marathon:

4:10, Borneo International Marathon 2013

Favourite athlete:

Yuki Kawauchi

Favourite pastime:

Hiking, Reading

Favourite colour:

Red, Blue, White

Pacer time:

03:45
WHY DO I WANT TO VOLUNTEER AS A STANDARD CHARTERED KL MARATHON PACER
Since 2013, I started to run and I have done volunteer work for a full marathon before (Hulu Langat Marathon 2017) and I wish to put forward some running experiences as a pacer.
A PHRASE THAT INSPIRES ME
"Never leave that till tomorrow which you can do today."
MY MOTIVATION
Running is an individual journey with little by little running efforts put in day by day or week by week but slowly and gradually months after months to achieve the best of yourself and others.