PACER'S DETAILS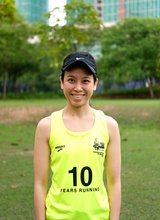 Name:

Wong Boon Jen

Gender:

Female

Place of Birth:

Sandakan

Personal best:

3:36, Osaka Marathon 2017

First marathon:

4:45, Standard Chartered Singapore 2009

Favourite athlete:

Roger Federer

Favourite pastime:

Running

Favourite colour:

Green

Pacer time:

04:30
WHY DO I WANT TO VOLUNTEER AS A STANDARD CHARTERED KL MARATHON PACER
To encourage runners to achieve their targeted time.
A PHRASE THAT INSPIRES ME
"Run like there's no tomorrow."
MY MOTIVATION
Running allows me to have my 'me time', to be away from the day to day stress of being a working mum. By being a running mum, I hope to be able to motivate more ladies to better themselves in running. There is no excuse to slack just because of work or looking after the family. All it needs is dedication.