PACER'S DETAILS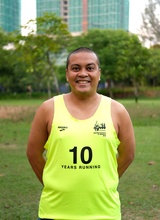 Name:

Irwan Anuar

Gender:

Male

Place of Birth:

London, England

Personal best:

2:10, Seremban Half Marathon 2011

First half marathon:

2:20, Standard Chartered Marathon Singapore 2009

Favourite athlete:

Roger Federer

Favourite pastime:

Reading, Travelling

Favourite colour:

Blue

Pacer time:

03:00
WHY DO I WANT TO VOLUNTEER AS A STANDARD CHARTERED KL MARATHON PACER
I enjoyed being SCKLM pacer over the years as I had inspired many runners to complete their race. I have proven that size and weight are not the factors that deter you from completing a marathon.
A PHRASE THAT INSPIRES ME
"Rome wasn't built in a day. So is endurance."
MY MOTIVATION
To date, I have run 43 marathons and countless half marathons. This year will be my sixth time as SCKLM's pacer, returning as a Half Marathon pacer for two years in a row. I enjoy being a pacer for first timers to complete their races within the targeted time. This year it will be my second time guiding runners to complete their Half Marathon within three hours. I will be running at a steady pace, 41 minutes for every five km. Come and follow me if you want to finish your race within three hours.