PACER'S DETAILS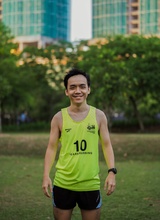 Name:

William Lim

Gender:

Male

Place of Birth:

Kuala Lumpur, Malaysia

Personal best:

1:32, Seremban HM 2015

First half marathon:

1:49, PJ HM 2012

Favourite athlete:

Yuki Kawauchi

Favourite pastime:

Reading

Favourite colour:

Orange

Pacer time:

02:00
WHY DO I WANT TO VOLUNTEER AS A STANDARD CHARTERED KL MARATHON PACER
To encourage and motivate and help others in their running journey.
A PHRASE THAT INSPIRES ME
"Yesterday you said tomorrow."
MY MOTIVATION
Running brings us to places where we don't normally go, shows us things that we don't usually see, gives us power that we don't typically have. Running sets us free and gives us strength. Running is life.