PACER'S DETAILS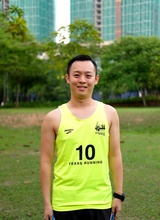 Name:

Loh Kien Waei

Gender:

Male

Place of Birth:

Perak

Personal best:

2:03:14, Men Health Women Health 2016

First half marathon:

2:28:13, We Run KL 21K 2015

Favourite athlete:

Lee Chong Wei

Favourite pastime:

Running

Favourite colour:

Blue

Pacer time:

02:30
WHY DO I WANT TO VOLUNTEER AS A STANDARD CHARTERED KL MARATHON PACER
I am pacing now to send back this motivation and pleasure, build memorable experience as a team and learn to be more consistent to achieve better results.
A PHRASE THAT INSPIRES ME
"Take what your body give you yet as much as I want to listen, we are always told Do The Best You Can."
MY MOTIVATION
I think about the confidence running has given me, and when I'm able to share those experiences with runners and see them get to the finish line in a time they didn't believe was possible, and I may have had a small part of that, then for me, that's a real honor and privilege. We're convincing people that they can do something they didn't think they could do that.