PACER'S DETAILS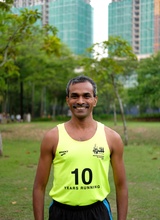 Name:

Munintaran Sundram

Gender:

Male

Place of Birth:

Perak, Malaysia

Personal best:

1:16, Penang Bridge Run 1996

First half marathon:

1:25, Air Force International Marathon 1995

Favourite athlete:

Usain Bolt

Favourite pastime:

Running and Hiking

Favourite colour:

Purple

Pacer time:

02:00
WHY DO I WANT TO VOLUNTEER AS A STANDARD CHARTERED KL MARATHON PACER
To explore new experience as a pacer - to motivate and encourage runners to achieve their goals of finishing the run within their target.
A PHRASE THAT INSPIRES ME
"Push the limit beyond the edge."
MY MOTIVATION
Running is about the interaction between mind - body and body - mind. Pace is about bring oneself to achieve the ultimate goal - crossing the finishing tape.