PACER'S DETAILS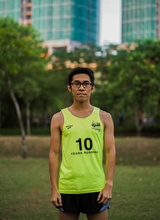 Name:

Lim Yew Khuay

Gender:

Male

Place of Birth:

Taiping, Malaysia

Personal best:

3:24, Osaka Marathon 2017

First marathon:

4:18, Borneo International Marathon 2012

Favourite athlete:

Michael Jordan

Favourite pastime:

Movie

Favourite colour:

Blue

Pacer time:

04:00
WHY DO I WANT TO VOLUNTEER AS A STANDARD CHARTERED KL MARATHON PACER
I have used pacer service as light house or benchmark in the past to complete my race on target timing. I understand how important it is for runners to focus on the target with the help of pacers.
A PHRASE THAT INSPIRES ME
"Whatever the mind can conceive and believe, it can achieve."
MY MOTIVATION
Running is an active form of meditation to me, it helps me to connect my mind to my body and train my patience in dealing with challenges in life.