PACER'S DETAILS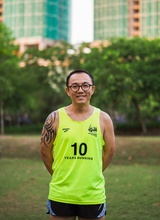 Name:

Barkley Wong

Gender:

Male

Place of Birth:

Ipoh, Perak, Malaysia

Personal best:

4:27, Kuching Marathon 2015

First marathon:

5:22, River Jungle Marathon 2012

Favourite athlete:

Usain Bolt

Favourite pastime:

Running, PS4

Favourite colour:

Red, Turqoise, Black

Pacer time:

07:15
WHY DO I WANT TO VOLUNTEER AS A STANDARD CHARTERED KL MARATHON PACER
To give back to the running community, to cheer & motivate them.
A PHRASE THAT INSPIRES ME
"Go for it if you believe, it's never too late !"
MY MOTIVATION
Running changes my life, in terms of health & lifestyle. It really cheers me up, good vibes all around. It's always a different experience from running for ourselves. We're running for other runners, to motivate them to achieve their PB. Consistent pace is my way of pacing runners to their PB.