PACER'S DETAILS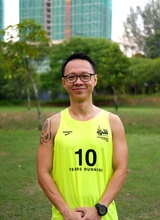 Name:

Simon Leong

Gender:

Male

Place of Birth:

Teluk Intan, Perak

Personal best:

4:00, Gold Coast Marathon 2016

First marathon:

4:29, SCKLM 2014

Favourite athlete:

Miranda Carfrae

Favourite pastime:

Run, Cycle, Swim, Cook, Walking my dog

Favourite colour:

Black

Pacer time:

06:00
WHY DO I WANT TO VOLUNTEER AS A STANDARD CHARTERED KL MARATHON PACER
Motivate runners push through their walls. I was once a noob. I know the pain of one's first marathon.
A PHRASE THAT INSPIRES ME
"Do what makes us happy. Life is too short for anything else. "
MY MOTIVATION
Running is my zen. My happiness. Helping others gives me happiness also. Pacing is an art. Knowing your flock follows behind you, one must maintain a steady pace, (eg: informing your fellow pacers and followers if gonna go loo break, cant just shoot off at 4 min pace), make it known to everyone to hydrate properly.