PACER'S DETAILS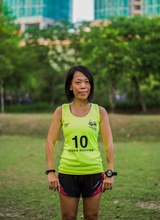 Name:

Renee Tan Hong Ping

Gender:

Female

Place of Birth:

Alor Star, Kedah

Personal best:

2:04, Putrajaya Night Marathon 2013

First half marathon:

2:20, Standard Chartered KL Marathon 2013

Favourite athlete:

Killian Jornet

Favourite pastime:

Travelling, running & driving

Favourite colour:

White

Pacer time:

02:30
WHY DO I WANT TO VOLUNTEER AS A STANDARD CHARTERED KL MARATHON PACER
As part of giving back to running society and I love to support runners and help runners achieve their goals.
A PHRASE THAT INSPIRES ME
"Each Step Takes Me Closer To My Goal."
MY MOTIVATION
Running makes life more lively where we have goals to accomplish. Running could help we feel more calmer, offers sense of freedom and energized. Running builds confidence and will likely inspire more running souls especially new runners.