STANDARD CHARTERED EXTENDS KL MARATHON TITLE SPONSORSHIP
Malaysia's premier distance running event will see bank at the helm till 2022
KUALA LUMPUR, November 2018: Dirigo Events and Standard Chartered Malaysia are pleased to announce a four-year extension to their title sponsorship agreement, taking the Bank's partnership with the Standard Chartered KL Marathon through year 2022. The 2019 edition of the highly anticipated event will take place on 28 and 29 September and is expected to draw over 38,000 participants.
Standard Chartered has been the title sponsor of the event since 2009 and celebrated the 10th Anniversary of the bank's involvement at this year's event in April. The Standard Chartered KL Marathon's (SCKLM) 10th Anniversary saw its biggest participation yet with 38,000 participants competing in 10km, Half and Full Marathon distances, with a 5km Fun Run and 1km and 3km Kids categories. The 10th Anniversary event also saw SCKLM being held over two days for the first time to cater to the growing number of runners, and this will continue in the next edition of the race.
"We are extremely pleased to be extending our association with this wonderful sporting event and delighted that we will be able to continue inspiring Malaysians to lead healthy, productive lives," said Abrar A. Anwar, Managing Director and CEO of Standard Chartered Malaysia at a signing ceremony held today. "Over the last 10 years, SCKLM has grown to become the premier running event in Malaysia, bringing together participants from every state within the country and from over 70 countries. This is largely due to Dirigo's excellent organisation of the event and we are happy to resume this successful partnership to take this event to even greater heights," added Abrar.
The 2019 edition of SCKLM will also see the inclusion of new, as well as returning sponsors. SCKLM welcomes Under Armour and Banana Boat as first-time sponsors of the event. Seiko resumes its long-standing sponsorship while 100 Plus returns as beverage sponsor for the next 4 years.
"We are really happy to have secured our title and major sponsors for the 2019 edition of SCKLM well ahead of the event, which gives us ample time to plan and maximise the sponsorship agenda of our partners," said Rainer Biemans, Project Director of SCKLM and Director of Dirigo Events. "As we persevere in creating a platform for running while bringing together communities to effect positive social change, it is heartening to note Standard Chartered's steadfast support and confidence in the event and we are extremely grateful for their continued involvement, as we are of all our sponsors" he continued.
For more information and updates on SCKLM, please visit:
Facebook : http://www.facebook.com/SCKLmarathon
Twitter : www.twitter.com/SCKLmarathon
Instagram : https://instagram.com/SCKLmarathon
Website : www.kl-marathon.com
For more information, please contact:
Suthan Narayanan | 03.7621.7787 | suthan@dirigo.com.my
### End ###
About the Standard Chartered KL Marathon 2018
Back for the 11th year, the Standard Chartered KL Marathon takes place on 28 & 29 September 2019. The marathon, owned and organised by Dirigo Events, will see participation from more than 38,000 runners, ranging from elite athletes to first-time distance runners. A truly international event, the Standard Chartered KL Marathon boasts participants from all over Malaysia and over 70 countries. The Standard Chartered KL Marathon 2019 remains Malaysia's premier running event with top runners competing for a total of MYR 500,000 in prize money.
For more information on the Standard Chartered KL Marathon, please log onto: http://www.kl-marathon.com/ and http://www.facebook.com/SCKLmarathon.
About Standard Chartered
We are a leading international banking group, with around 84,000 employees and a 150-year history in some of the world's most dynamic markets. We bank the people and companies driving investment, trade and the creation of wealth across Asia, Africa and the Middle East. Our heritage and values are expressed in our brand promise, Here for good. Standard Chartered PLC is listed on the London and Hong Kong Stock Exchanges as well as the Bombay and National Stock Exchanges in India. For more information please visit www.sc.com. Explore our insights and comment on our blog, BeyondBorders. Follow Standard Chartered on Twitter, LinkedIn and Facebook.
About Standard Chartered in Malaysia
Standard Chartered Bank, a member of the Standard Chartered Group was established in Malaysia in 1875 and incorporated as Standard Chartered Bank Malaysia Berhad in 1984. As Malaysia's first bank, Standard Chartered leads the way through product innovation, consistent and strong growth performance and sustainability initiatives. The Bank provides a comprehensive range of financial products and services to corporates, institutions, small and medium-sized enterprises and individuals through its network of branches across Malaysia.
In 2001, Standard Chartered PLC established its second global technology & operations centre, Standard Chartered Global Business Services (formerly Scope International) in Malaysia – the first international bank to do so in the country. It provides software development, banking operations, IT support services and customer service capabilities to the Bank in up to 70 countries. It now houses the biggest software development company in the country, International Software Centre Malaysia (ISCM) and has a total workforce of more than 4,500 people.
Price Solutions Sdn Bhd, a wholly owned subsidiary of Standard Chartered PLC is also located in Malaysia. The company promotes and markets Standard Chartered's financial products in Malaysia through a network of direct sales agents.
Standard Chartered Saadiq Berhad (Saadiq), Standard Chartered Bank Malaysia's Islamic Banking subsidiary was established in November 2008. It offers a full suite of Syariah-compliant products and services to individuals and corporates through its dedicated branches.
Standard Chartered employs over 7,000 employees in all its Malaysian operations.
About Dirigo Events
The Standard Chartered KL Marathon is owned by Dirigo Events Sdn. Bhd, an award-winning event management company founded in 2011 by Rainer Biemans and Gloria Ng. The event not only draws a large number of Malaysian runners, but attracts runners from more than 70 countries around the world. Rainer Biemans and Gloria Ng have a combined experience of over 48 years in executing and creating world-class and impactful events for international clients around the world such as Europe, Brunei, India and Singapore.
Apart from owning the Standard Chartered KL Marathon, Dirigo also organises the Bursa Bull Charge and provides operational services for other mass participation events.
For more information on Dirigo Events, please contact +603 7887 1717 or email dirigo@dirigo.com.my
*****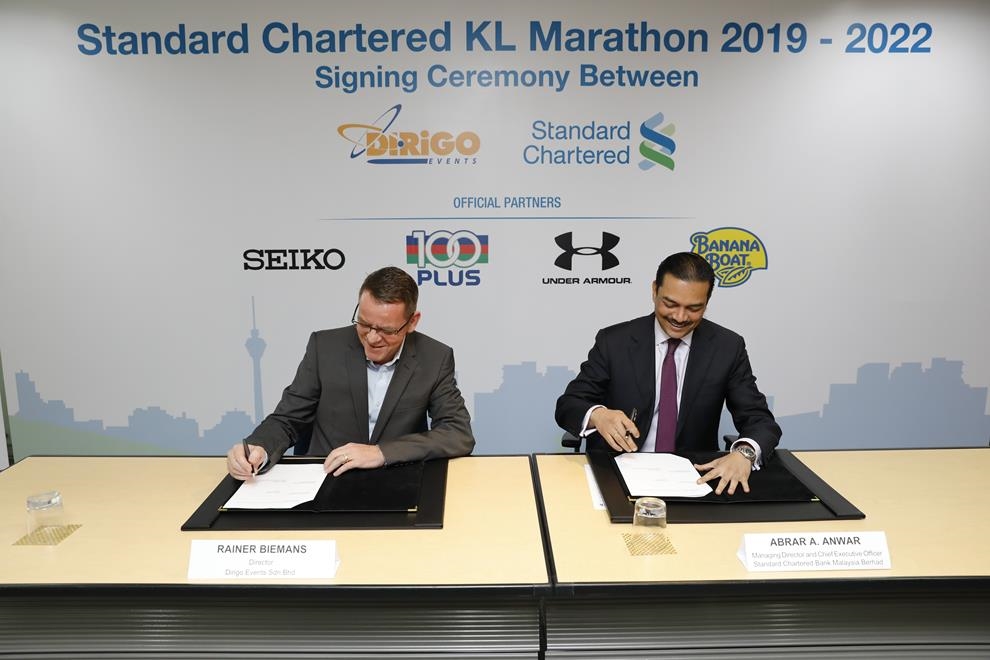 Rainer Biemans (left), Project Director SCKLM and Director, Dirigo Events signs the sponsorship agreement with Abrar. A. Anwar, Managing Director and CEO, Standard Chartered Malaysia.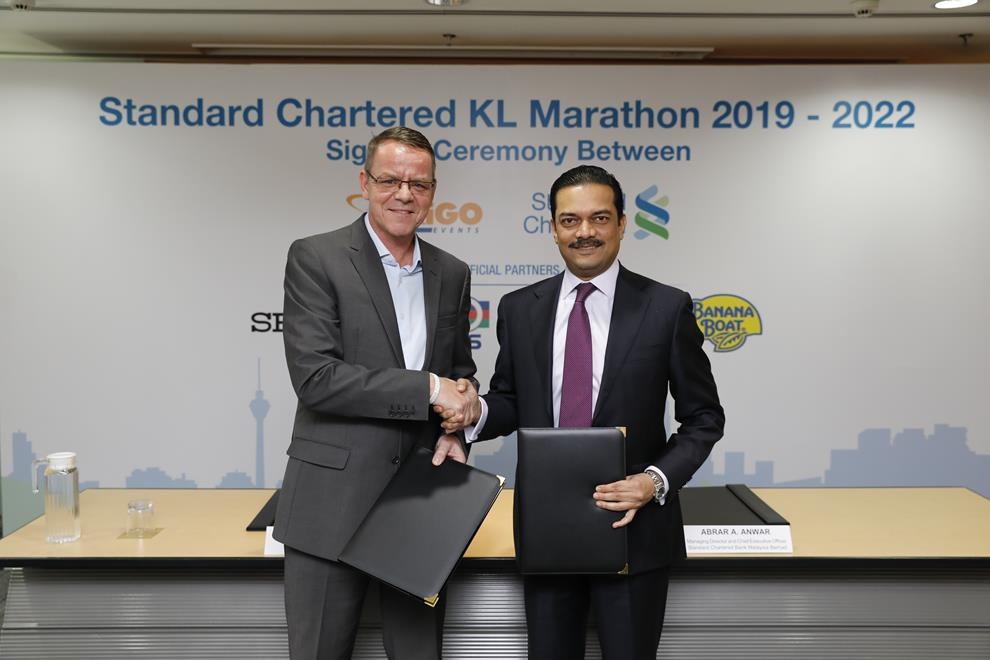 Rainer Biemans and Abrar. A. Anwar exchanging the sponsorship documents.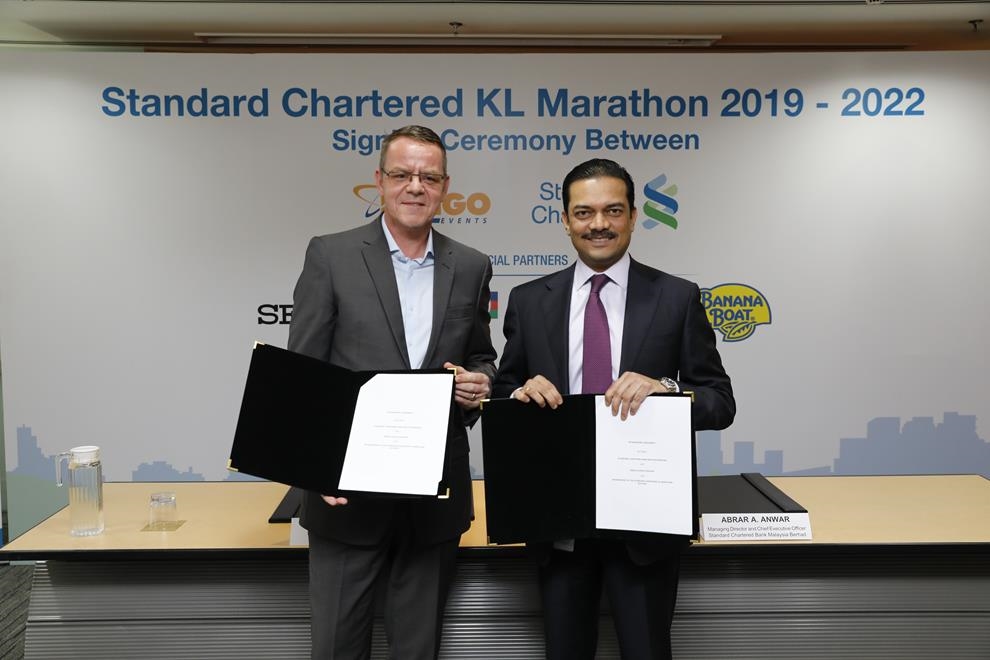 Rainer Biemans and Abrar A. Anwar displaying the sponsorship agreement.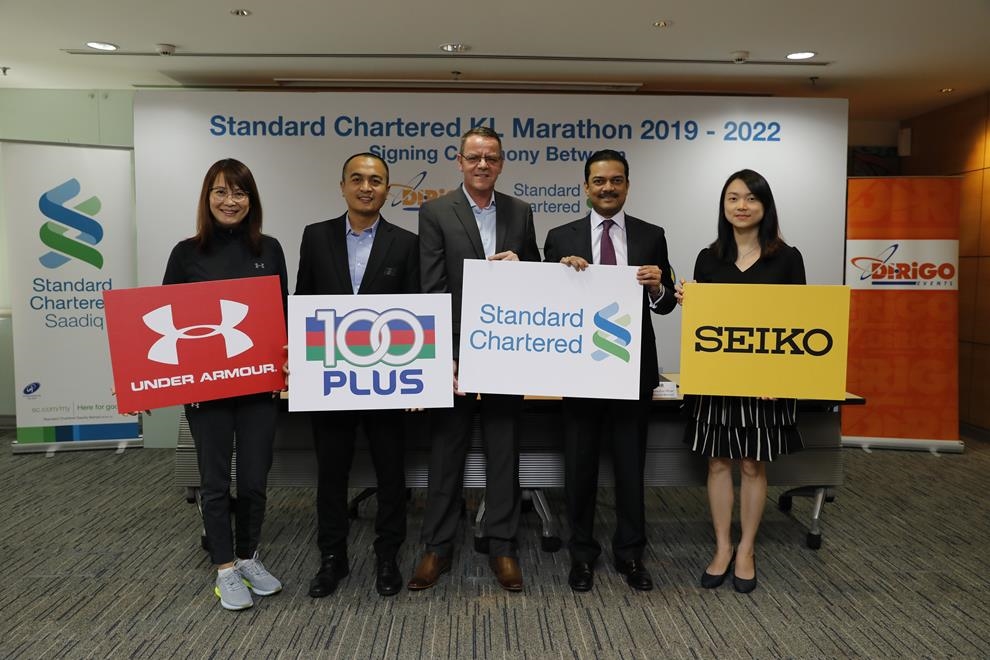 L-R Jessica Tan, General Manager UA Sports Malaysia (Under Armour), Engku Isyam, Sponsorship and Activation F&N Beverages (100Plus), Rainer, Abrar, Asthy Lee, Marketing Manager Thong Sia (SEIKO).