STANDARD CHARTERED KL MARATHON STRIKES REGIONAL GOLD AGAIN
Malaysia's Premier Running Event Earns Two Awards At SPIA Asia's Annual Industry Affair
BANGKOK, November 2018: The Standard Chartered KL Marathon (SCKLM), the premier distance running event in Malaysia, underlined its growing reputation as a top regional competition by clinching a Gold and Silver in two categories at the annual SPIA Asia event (Asia's Sports Industry Awards and Conference) held here recently. SCKLM technology partner MYLAPS retained the Gold in the Best Sports Digital Platform category for the SCKLM App while Dirigo Events, the owner and organiser of SCKLM, received a Silver for the Best Mass Participation Event. Dirigo bagged the Gold in the same category last year.
"We are delighted to have come away with two awards, similar to our success last year. If anything, the competition was tougher this time around with some big and prestigious names in the mix but we are humbled by the recognition of our peers in the industry. As we continue to grow in Malaysia and the region, this sort of recognition will serve to spur us on to hopefully greater heights as we continue to deliver the best possible race experience to all our stakeholders," said Rainer Biemans, Director of Dirigo Events and Project Director of SCKLM. "We would like to thank all our sponsors, partners and participants without whom this achievement would not have been possible," he added.
SCKLM2018 was a special 10th Anniversary edition, which recorded the highest turnout for the event to-date with 38,000 runners taking part over two days. Of these, over 1,700 were international running tourists contributing towards the country's tourism revenues and in total more than 70 nationalities were represented, making SCKLM a truly inclusive mass participation event.
The SCKLM App was developed by MYLAPS and launched for SCKLM2016. To date the App has been downloaded a total of 39,609 times since its launch and become the most downloaded sports app in the App Store and Google Play on 7 & 8 April, with 2,408,576 screens viewed.
"Since its launch in 2016, the SCKLM App has continuously added improvements and features that have gone down very well with our participants, and their friends and families. The current App features 'Live' tracking of participants, provides all Race Day related info, access to the Runners' Guide and seamless social media connectivity that allows users to instantly post their memorable race photos," said Gloria Ng, Director of Dirigo Events.
SPIA Asia is an annual event which celebrates the brands, agencies, marketers and organizations which positively influence the sporting landscape in Asia. The Awards are a meaningful and credible platform judged by industry experts, while committed to create legacy through raising funds for local development initiatives. The SPIA Asia Sports Business Conference is the only one of its kind, which brings thought leaders of the industry together to discuss the specific topics and themes that are changing the face of sport in Asia.
For more information and updates on SCKLM, please visit:
Facebook : http://www.facebook.com/SCKLmarathon
Twitter : www.twitter.com/SCKLmarathon
Instagram : https://instagram.com/SCKLmarathon
Website : www.kl-marathon.com
For more information, please contact:
Suthan Narayanan | 603.7621.7787 | suthan@dirigo.com.my
For more information on Standard Chartered KL Marathon:
Gloria Ng | 603.7621.7787 | dirigo@dirigo.com.my
### End ###
About the Standard Chartered KL Marathon 2018
Back for the 10th year, the Standard Chartered KL Marathon took place on 7 & 8 April 2018. The marathon, owned and organised by Dirigo Events, saw participation from 38,000 runners, ranging from elite athletes to first-time distance runners. A truly international event, the Standard Chartered KL Marathon boasts participants from all over Malaysia and over 70 countries. The Standard Chartered KL Marathon 2018 remains Malaysia's premier running event with top runners competing for a total of USD 125,000 in prize money.
For more information on the Standard Chartered KL Marathon, please log onto: http://www.kl-marathon.com/ and http://www.facebook.com/SCKLmarathon.
About Dirigo Events
The Standard Chartered KL Marathon is owned by Dirigo Events Sdn. Bhd, an award-winning event management company founded in 2011 by Rainer Biemans and Gloria Ng. The event not only draws a large number of Malaysian runners, but attracts runners from more than 70 countries around the world. Rainer Biemans and Gloria Ng have a combined experience of over 48 years in executing and creating world-class and impactful events for international clients around the world such as Europe, Brunei, India and Singapore.
Apart from owning the Standard Chartered KL Marathon, Dirigo also organises the Bursa Bull Charge and provides operational services for other mass participation events.
For more information on Dirigo Events, please contact +603 7621 7787 or email dirigo@dirigo.com.my
*****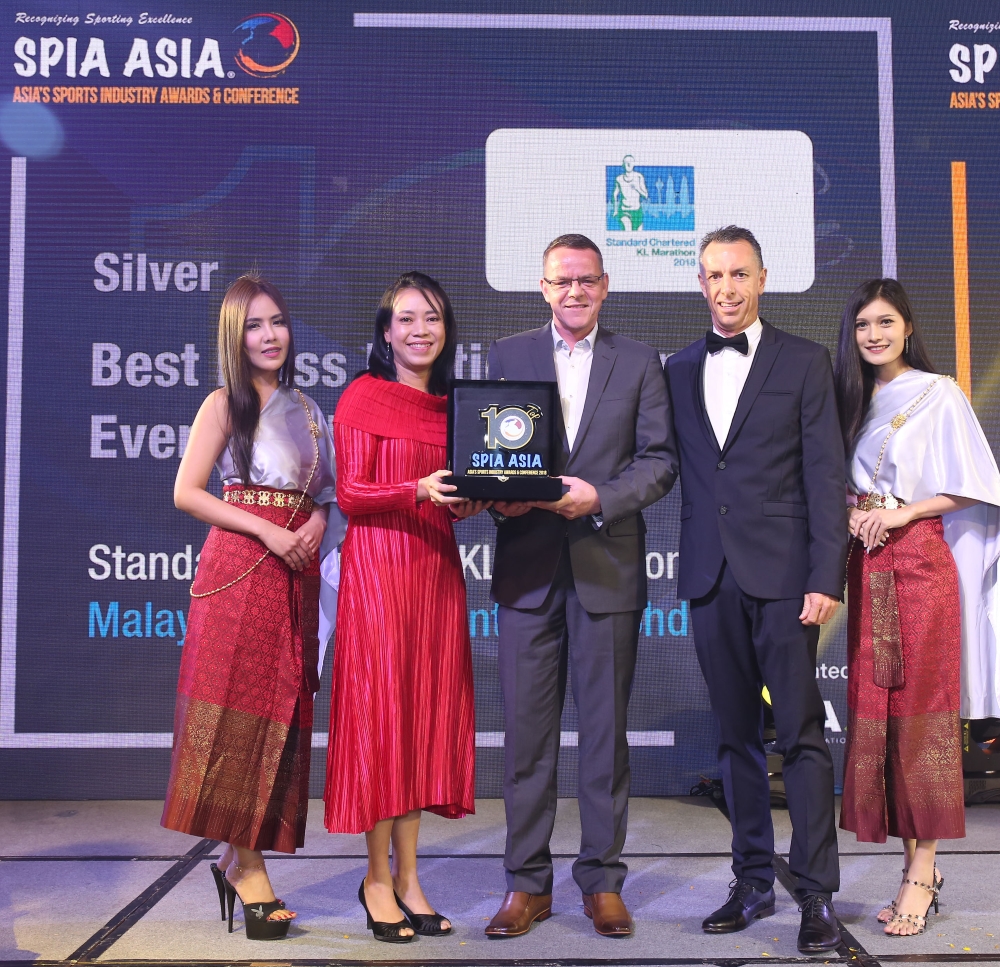 Best Mass Participation Event Of The Year_Silver with Gloria Ng and Rainer Biemans from Dirigo Events, second and third from the left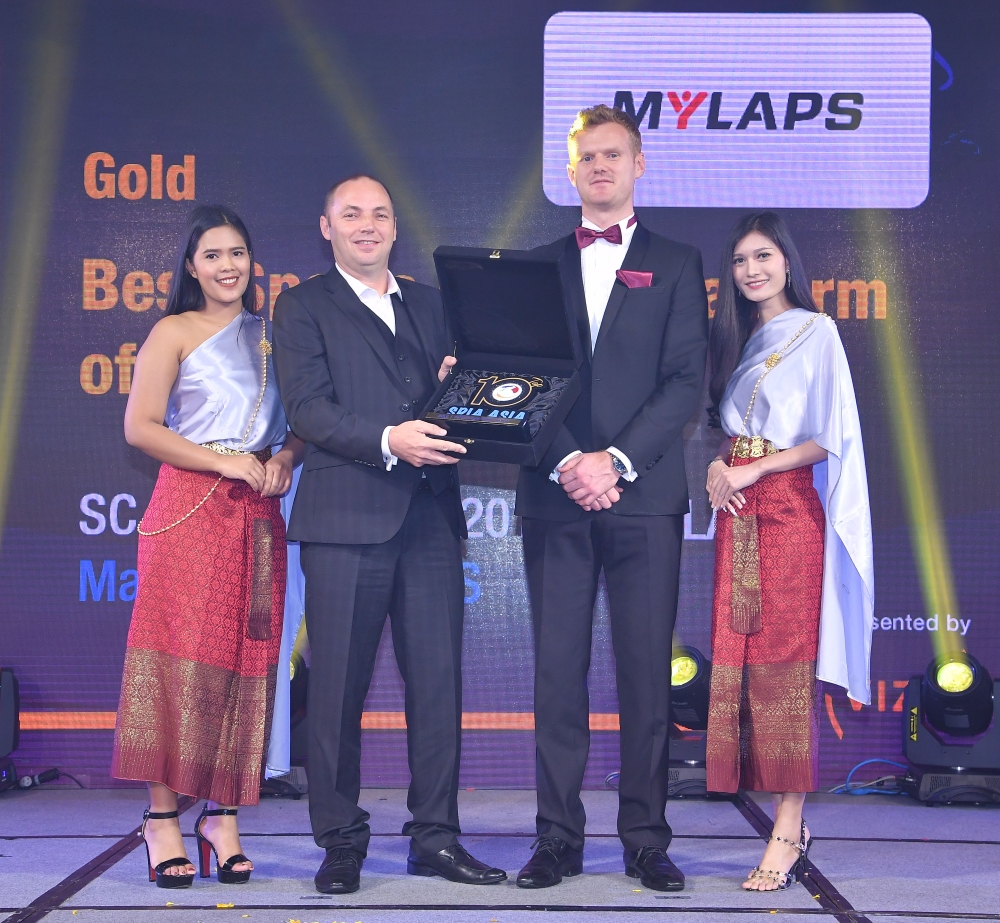 Best Sports Digital Platform Of The Year_Gold with Raymond Perin from MyLaps, second from left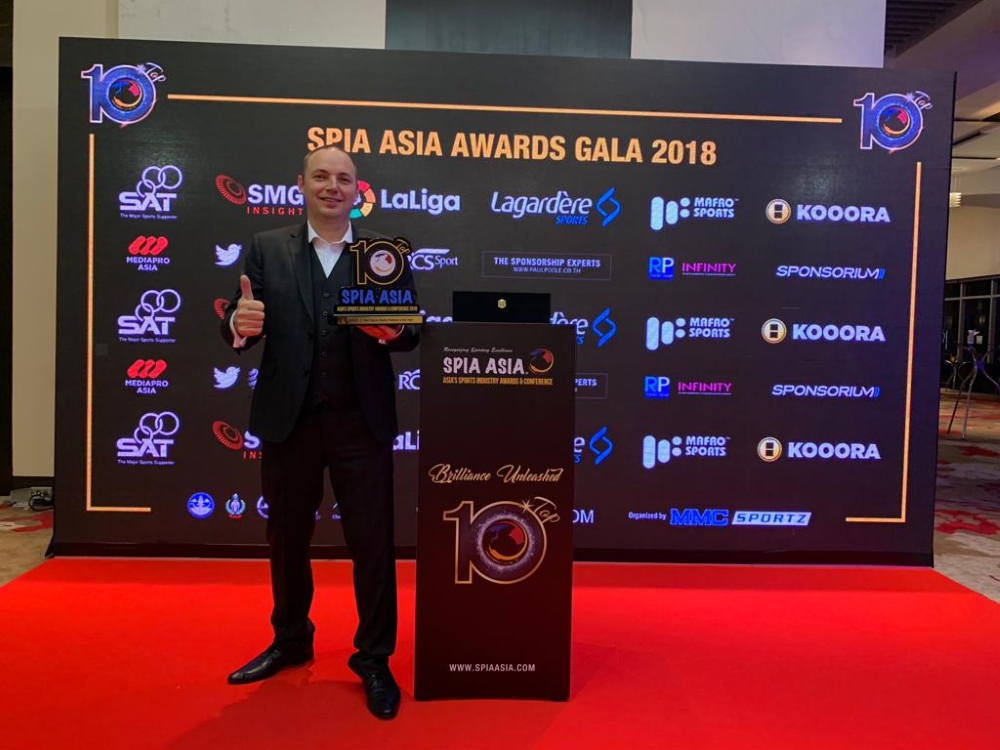 Raymond Perin from MyLaps with the Gold Award for Best Sports Digital Platform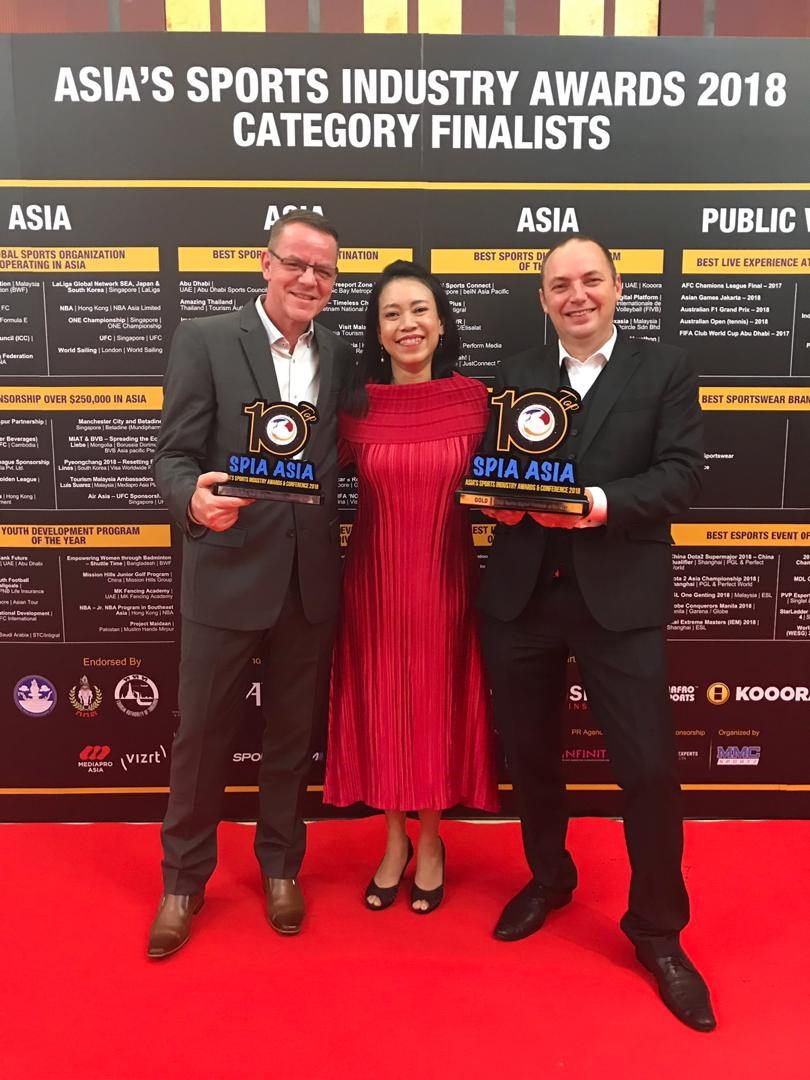 Rainer Biemans and Gloria Ng from Dirigo Events and Raymond Perin of MyLaps with their awards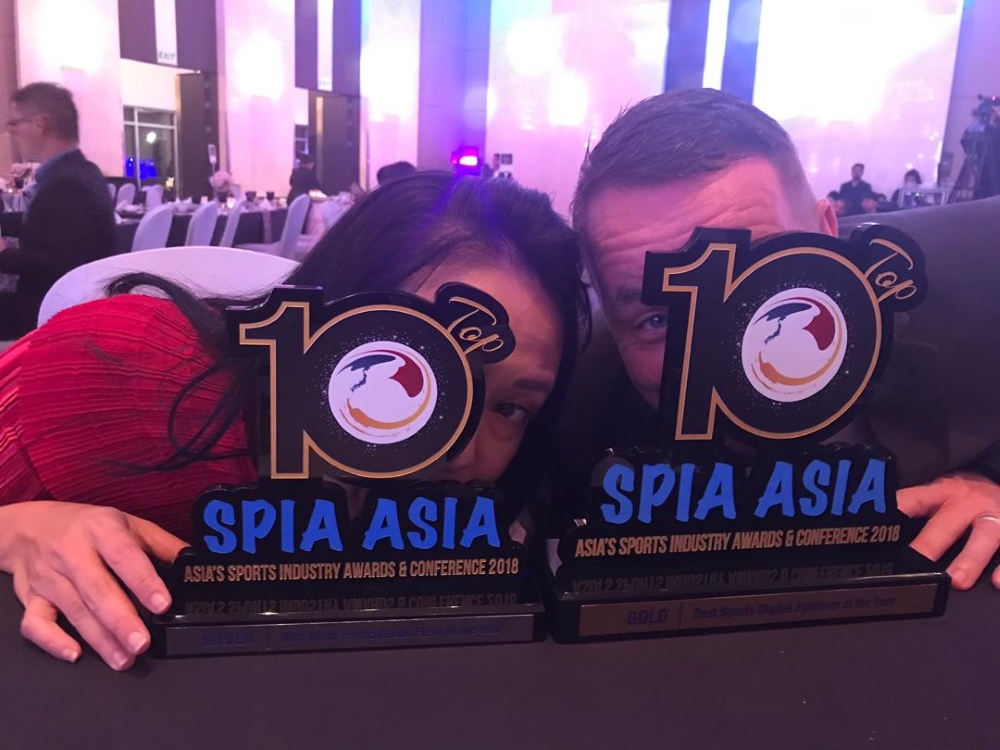 Gloria Ng and Rainer Biemans - The force behind the Awards