PACER'S DETAILS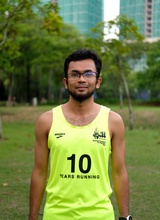 Name:

Muhammad Huzaifah Bin Johari

Gender:

Male

Place of Birth:

Kuantan, Pahang

Personal best:

3:03, Gold Coast Airport Marathon 2017

First marathon:

3:22, Wellington Marathon 2013

Favourite athlete:

Mo Farah

Favourite pastime:

Reading, Running, Traveling, Hiking

Favourite colour:

Red, White, Black

Pacer time:

03:45
WHY DO I WANT TO VOLUNTEER AS A STANDARD CHARTERED KL MARATHON PACER
Pacer has a huge responsibility as they carry a dream of other runners who already work hard for the race. Therefore, I want to take the responsibility to help them to achieve their target.
A PHRASE THAT INSPIRES ME
"Don't let anyone define you, work hard day in, day out and stay humble. Have goals and work on it."
MY MOTIVATION
For me running is not a sport. It is life! I always dedicate my life to running day in day out. I know they are a lot of runner out there training week in week out to achieve their goals. That is why I am applying to be a pacer to guide and motivate them through out the race. A pacer can make or brake the race. By going too fast or too slow, a pacer can break the race. What I will do as a pacer is to make a time check every 5 km split.